(If Graft Placement & Flap Design, and Treating Peri-implantitis classes are taken together on the same weekend tuition will be $3500)
(Please print, fill out the form and fax it to our office 910.343.9512)
Registration Dates
2020 Courses
March 27th     Chicago, IL
POSTPONED – NEW DATE COMING SOON
Renaissance Chicago O'Hare Suites
8500 W Bryn Mawr Ave.
Chicago IL 60631
773-329-2830
October 23rd Charlotte, NC


POSTPONED



The Westin Charlotte
601 South College Street
Charlotte, NC 28202
(704) 375-2600
SYNERGY OF BIOLOGICS IN TREATMENT OF PERI-IMPLANTITIS
Who will benefit from this course? Restorative dentists and specialists along with their clinical staff members will take home new skill sets from this unique course.
Tuition
GENERAL
$1950 per course
$3500 for Both (back to back) Courses
STAFF MEMBERS
$295 per course
$495 for both courses
---
Register For Course Online
Synergy Of Biologics In Treatment Of Peri-Implantitis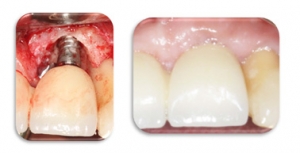 Who will benefit from this course? Restorative dentists and specialists along with their clinical staff members will take home new skill sets from this unique course.
This innovative course is the first full-day U.S. course focused on peri-implantitis diagnosis, prevention and treatment. Wallace Periodontics and Implants Learning Center developed this specific surgical protocol in response to the increasing incidence of peri-implantitis infection and loss of implants.
Our purpose is to empower clinicians with the surgical skills and knowledge to diagnose and effectively treat peri-implantitis at early stages, preventing implant loss. You will learn how to utilize surgical techniques to achieve effective biofilm removal, gain significant vertical bone regeneration, while stopping infection and stabilizing affected implants. You will acquire the knowledge and skills to identify, prevent and treat healing complications easily. Attending doctors will learn our effective consultation and case presentations that patients readily accept, allowing their treatment to progress promptly leading to increased patient satisfaction
In this course you will:
Recognize the increasing incidence of peri-implantitis infections.
Learn to diagnose early signs and symptoms of peri-implantitis infection.
Understand why peri-implantitis infections exhibit a rapid and "non-linear" progression.
Understand the surgical sequence in implant surface preparation using Komet instruments to effectively remove contaminated surfaces.
Learn the surgical techniques and principles for successful flap design to allow complete flap closure, implant surface preparation/detoxification, sequencing of effective biologics, and membrane coverage.
See the value of CBCT scan planning to ensure adequate bone thickness around implants, preventing post-restorative complications from dehiscence due to blood supply loss.
Become aware of the multifactorial etiology of peri-implantitis related to adverse effects of rough implant surfaces, retained cement, overhanging restorations, open margins, close proximity of implants to each other and adjacent teeth, foreign body reaction to titanium debris and inaccessibility of implants supporting prostheses.
Appreciate the positive effects of GEM21S, Emdogain and rhBMP-2 on maximizing bone regeneration around implants.
Course Content:
Our new protocol uses Multi-Layered Growth FactorsTM to produce predictable vertical bone regeneration and keratinized gingiva around implant sites, maximizing long term stability.
Specific surface preparation completely removes microbial contamination and prevents recurrence of peri-implantitis infections.
Live, narrated surgery videos show details of every surgical step.
Post-course videos are available to course alumni.
Detailed instruction in the preparation, use and synergy of multiple biologics is provided: Emdogain, Gem21S, new alpha-Platelet Rich Fibrin and rhBMP-2
Specialized membranes prevent soft tissue ingrowth and maximize new bone regeneration by maximizing the effect of biologic stimulation in bone regeneration.
Case planning and diagnostic details are reviewed to illustrate the steps needed to prevent development of peri-implantitis.
Rationale for choosing implants with specific surface treatment documented to resist periimplantitis
Surgical perioplastic techniques prevent and treat peri-implantitis: these are described in detail utilizing: cancellous block grafts, particulate cortico-cancellous allografts, connective tissue graft augmentation, acellular dermis grafts for generation of keratinized gingiva surrounding implants, guided bone regeneration, split thickness flap techniques preserving blood supply from periosteum, platelet-rich fibrin membranes for particulate bone graft isolation and "sticky bone" generation.
Komet surgically designed burs and diamonds are indispensable instruments for effective and efficient surface preparation of implants.
Versah© Osseodensification technique is shown to achieve widening of narrow ridges allowing safe implant placement and preventing post-implant surgery dehiscence complications.
The application of a new Metronidazole 1% antibiotic gel is used to prevent and treat infection complications in surgical sites.
This new course is evidence-based and shows clinical results from 5 years of successful treatment of peri-implantitis cases. Our new protocol uses the synergy of Multi-Layer BiologicsTM to stop peri-implantitis, regain vertical bone support and prevent implant loss with a success rate of 99.5% over 5 years.
Steve has the gift of being able to integrate science and surgical technique seamlessly in this new protocol that is shown to definitively treat and prevent peri-implantitis. This new protocol is a game- changer in the treatment of peri-implantitis!

       
As a prosthodontist, I clearly see where Dr. Wallace's restorative experience in academics and in private practice prior to his perio specialty training gives him unique understanding of the value of achieving stable implant sites, and treating rather than removing affected implants in complex restorative cases.

      
Dr. Wallace goes the extra mile in this course to pass on the knowledge and skill he has used to develop this research based one-of-a-kind teaching course. I am personally gratified to know I now have an effective protocol enabling me to treat and keep critically important implants in my referring doctor's complex cases, rather than removing and replacing them.

      
This is the most important and exciting new course I have ever seen! It clearly shows us how to successfully treat rather than having to replace implants in even the most advanced cases. If you are placing implants, this course is a must!

         
This surgical protocol for treating peri-implantitis combines the evidence-based and published techniques from multiple studies showing positive results. This produces a synergy of multiple biologic positive effects that is responsible for the superior results Dr. Wallace has achieved. His techniques and cases are meticulously documented and show the results of years of successful treatment of advanced peri-implantitis cases. This peri-implantitis treatment protocol has been adopted into the periodontics residency curriculum at the Medical University of South Carolina.

      
Steve has the restorative experience, academic knowledge and intuitive surgical problem-solving skills to create this course for the benefit of attending doctors. Complications are his special field of expertise, as he has created proprietary pharmaceuticals which target periodontal pathogens causing periimplantitis. The result is faster healing, less patient discomfort and improved case outcomes.