Platelet-Rich Growth Factor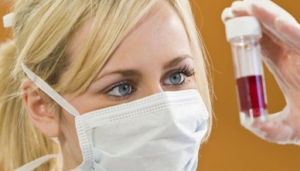 Developing Platelet Rich Growth Factor is a procedure that utilizes the patient's own platelets to speed up the healing process. In order to increase your natural platelet count, we obtain a small amount of whole blood as your intravenous sedation is starting. This blood is then centrifuged to separate and concentrate platelets. This platelet concentrate is then used combined with bone grafting material to be used in your treatment. This increases a patient's level of blood platelets and stimulates many of the tissue growth factors that attract the cells responsible for all phases of healing, and:
Increases growth of new blood vessels in the tissues,
Enhances new collagen growth
Increases the rate of outer skin healing,
Enhances new bone growth,
Reduces post-operative pain and swelling,
Reduces bleeding and post-operative bruising of the tissues,
Using the same Platelet Rich Fraction, barrier membranes are routinely created at our office to enhance healing over bone grafts.
Emdogain Enamel Matrix Derivative
This biologic is designed to promote predictable regeneration of bone and soft tissue cell attachment to the roots of teeth. It provides a cell matrix to induce the healing cascade involving stem cell migration into healing sites.
Use of this biologic leads to a better result from bone grafting and improved esthetic results in the "Smile Zone". An additional benefit is reduced discomfort and swelling after surgery.
Infuse Morphogenetic Protein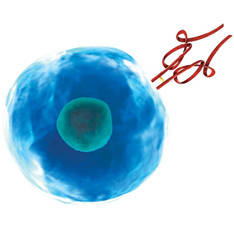 Robust growth of bone is the goal of our regenerative bone grafting and sinus lift procedures. This protein derivative is used by our orthopedic colleagues in major bone surgery for joint replacement and spine corrections. It is now made available in specific forms for use in our periodontal procedures to obtain the best and fastest results possible when bone grafting is necessary. Using this innovative breakthrough enhances our procedures when bone regeneration is important for sinus grafting and jaw bone regeneration. This ensures stability of implants within surrounding bone.
Gem 21S Synthetic Growth Factor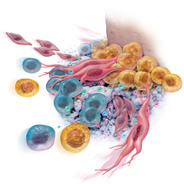 This is a fully synthetic regeneration system for treatment of periodontal bone defects and gingival recession. The active component is recombinant human platelet-derived growth factor. It is the first totally synthetic biologic growth factor to be approved for human use by the F.D.A.
This biologic works by stimulating the bone-forming cells required for tissue repair.
Dr. Wallace and his staff continually incorporate cutting-edge biologic technology to provide the best in clinical care for their patients