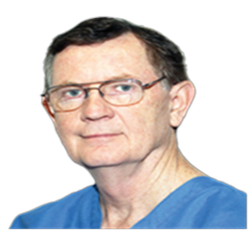 "During college in Chapel Hill, I soon realized that the health care professions were going to be my destination. Periodontics has been the best way for me to make a difference in my patient's quality of life.
Our guiding philosophy of practice is to treat our patients as we would like to be treated. So, to achieve that goal, we apply our years of clinical experience and judgement in combination with the best innovations in technology. Our special field of interest is in soft tissue grafting and esthetic reconstruction with dental implants. -Dr. Steve Wallace
Dr. Wallace is a native North Carolinian. He received his B.S. in pharmacy and D.D.S. degrees from the University of North Carolina at Chapel Hill, where he served as clinical instructor on the restorative faculty in the School of Dentistry. He received his Master's Degree with Honors in Periodontics from the Medical University of South Carolina. He received the American Academy of Periodontics Young Investigator Fellowship Award for research at MUSC. Dr. Wallace is an active member of the American Dental Association, International Congress of Oral Implantologists, and Life Member of the American Academy of Periodontology. He has published original research in the Journal of Periodontology, International Journal of Periodontics and Restorative Dentistry, Implant Dentistry, Journal of Dental Research, Journal of Pharmacology and Experimental Therapeutics, Journal of International Dentistry and the Journal of Implant and Advanced Clinical Dentistry. Dr. Wallace presents lectures for professional groups, teaching institutions and national professional meetings.
Achievements and Positions
Clinical Instructor of Pharmacology, Mercy Hospital School of Nursing, Charlotte North Carolina
Visiting Faculty, Cape Fear Community School of Dental Hygiene
Visiting Faculty East Carolina University School of Dentistry
Visiting Faculty Medical University of South Carolina, Department of Stomatology, Division of Periodontics
Knudtzen Award from Delta Sigma Delta Dental Fraternity
Sturdivant Award for Excellence in Clinical Achievement, University of North Carolina Dental School Faculty
Graduated with Honors, Periodontics Residency Program, Medical University of South Carolina
Science Investigator Fellowship Award from the American Academy of Periodontics
Served as President of the Wilmington Tri-County Dental Association
Vice-President and Secretary of the North Carolina Society of Periodontics.
Inducted into the American College of Dentists
Inducted into the International Society of Periodontal Perioplastic Surgeons
Founder: Carolinas Perioplastic Surgery Center
Founder: Pinnacle Study Club of the Carolinas
Founder: Wallace Periodontics and Implants Learning Center