What Is a Dental Implant?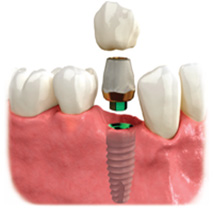 A dental implant is a threaded screw made of titanium that is very strong and designed to support a replacement crown. The implant placed into the jaw bone takes the place of the tooth root. The crown and a special post is the top part of the tooth replacement.
Why Do We Need Dental Implants?
Implants are used to replace natural teeth lost due to accidents, gum disease or abscess tooth issues. They have the advantages of not being subject to loss due to decay or breakage.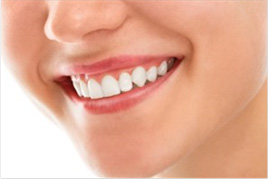 Losing teeth can lead to shrinkage of the facial structure, making patients appear older than they are. Loss of function due to missing teeth can then lead to poor nutrition and digestive disorders. Dental implants also allow you to continue eating the foods you love. An important benefit of replacement of missing teeth is restoring a patient's appearance; no one wants to be self-conscious and embarrassed by missing front teeth. Self esteem is affected and lead to a poor self-image. Well-done implants can replace the natural and functional appearance of a perfect smile!
Is it Painful to Have Dental Implants Placed?
Implant procedures are done with light IV sedation in our offices, so there is no pain or anxiety during the placement of implants. Dr. Wallace and his staff are innovators in using biological growth factors to promote rapid healing after surgical procedures. The most important of these is called "Platelet-Rich Fibrin". This is actually made from a patient's own blood sample, taken when an i.v. sedation line is started. This sample is placed into a high-speed centrifuge machine for 8 minutes to separate the platelet-rich fraction of blood which contains concentrated healing factors that act directly on surgical sites to jump-start the healing process. As a result of this, discomfort after the surgery is minimal and easily controlled with non-opioid analgesic medicines.
Does It Take Long to Get Dental Implants?
The time from implant placement to having new teeth depends on the patient's specific situation. Careful planning is done with C.T. scans of the oral anatomy. Both surgeon and dentist work as a team at each step in the reconstruction to produce the best results for each patient. Some implants are placed immediately, while others may involve two stages.
Do Implants Last A Long Time?
Dental implants can last for a patient's life time. Wear can cause crowns on implants to need replacement, but this can take many years to occur. The implants do not wear, so this does not affect them.
How Will I Look If Implants Show When I Smile?
Carefully planned implants in the smile zone will appear as perfectly natural teeth. They do not discolor, break or decay! This makes our patients feel better about themselves immediately.
How Do I Find Out About Implants For Me?
You do not have to be referred to us, simply call us at 910-343-0444 or email at office@drstevewallace.com for an appoint letting our staff know you want to see if implants are right for you. Our office in Wilmington is near New Hanover Regional Medical Center on 2525 Delaney Avenue.