What Is a Dental Implant?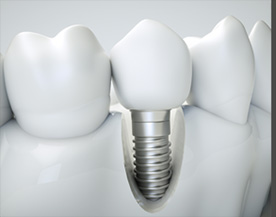 With dental implants from Dr. Wallace, you can permanently replace missing teeth with results that look and feel natural. Dental implants are one of the most important advances in modern dentistry, eliminating many of the problems associated with traditional replacement. A dental implant is a titanium post that actually becomes part of your jaw, serving the same function as your natural tooth. This can ensure comfort and efficient function of your teeth while enhancing the appearance of your smile.
Dr. Wallace is a skilled implant surgeon, and has completed years of advanced training, giving him the enhanced skills and experience necessary to provide the best possible outcomes. He utilizes the most advanced dental implant technology available, including state-of-the-art Guided Implant Surgery and precise digital mapping to give you the most precise-fitting implant possible. Our dental implant procedures can help you replace missing teeth with exceptional results.
Please contact our practice to schedule a dental implant consultation with Dr. Wallace. He will be happy to answer all of your questions.
Why Do We Need Dental Implants?
Implants are used to replace natural teeth lost due to accidents, gum disease or abscess tooth issues. They have the advantages of not being subject to loss due to decay or breakage.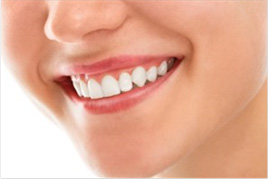 Implants are used to replace natural teeth lost due to accidents, gum disease or other tooth issues. They have the advantages of not being subject to loss due to decay or breakage.
With dental implants, you can replace missing teeth without the negative effects associated with other teeth replacement treatments. Implants offer a number of benefits and advantages for patients who have lost one or more natural teeth, including:
Permanent restoration of missing teeth
Results that look and feel like natural teeth
Routine brushing and flossing is important, along with professional cleaning with your hygienist.
Can restore facial contour reversing a "sunken" appearance due to missing teeth
No messy dental adhesives like those often required with traditional dentures
Improved ability to chew and speak
Improved appearance of your smile!
You can smile and laugh without feeling self-conscious
Is it Painful to Have Dental Implants Placed?
Implant procedures are done with light IV sedation in our offices, so there is no pain or anxiety during the placement of implants. Dr. Wallace and his staff are innovators in using biological growth factors to promote rapid healing after surgical procedures. The most important of these is called "Platelet-Rich Fibrin". This is actually made from a patient's own blood, taken when an i.v. sedation line is started. This is placed into a high-speed centrifuge machine to separate the platelet-rich fraction of blood which contains concentrated healing factors. These healing factors act directly on surgical sites to jump-start the healing process. As a result of this, discomfort after surgery is minimal and easily controlled with non-opioid analgesic medicines.
Does It Take Long to Get Dental Implants?
The time from implant placement to having new teeth depends on the patient's specific situation. Careful planning is done with C.B.C.T. scans of the oral anatomy. Both Dr. Wallace and your referring dentist work as a team at each step in the reconstruction to produce the best results for each patient. Some implants are placed immediately, while others may involve two stages.
Do Implants Last A Long Time?
Dental implants can last for a patient's lifetime. Wear can cause crowns on implants to need replacement, but this can take many years to occur. Implants do not wear, so this does not affect them. A dental implant can also better preserve bone, and it ultimately becomes a permanent part of your mouth, just like a natural tooth. Dental implants decrease the potential for receding gums around the new tooth; they are easier to keep clean; and they are more aesthetically pleasing than other treatment options.
How Will I Look If Implants Show When I Smile?
Carefully planned implants in the smile zone will appear as perfectly natural teeth. They do not discolor, break or decay! This makes our patients feel better about themselves immediately.
How Much Do Dental Implants Cost
From the actual surgical requirements to your individual smile design options, there are many factors that influence cost, such as:
How many missing or damaged teeth need to be replaced
What your treatment goals and needs are
The materials used in your dental restoration
Surgical requirements and the steps needed in your treatment
Cost comparison of bridgework vs. implant replacement for a single tooth is very close, so the obvious choice to avoid potential damage to natural teeth is to choose implants. Personalized details are provided during your consultation, when Dr. Wallace has had the opportunity to perform an oral exam and begin planning the specifics of your procedure.
Does Insurance Cover Dental Implants?
Since insurance policies are typically designed to cover only routine care, basic treatment, and emergencies, dental implants are often excluded as a covered benefit. However, the lowest-priced alternative to dental implants is often covered. Our staff can help patients navigate their insurance benefits to determine if their insurance provider will contribute to their total dental implants cost. In addition, to help make dental implants an affordable option for anyone, our practice offers dental financing options to divide the total cost into smaller, more manageable payments.
How Do I Find Out About Implants For Me?
You do not have to be referred to us, simply call us at 910-343-0444 or email at office@drstevewallace.com for an appointment. Let our staff know you want to see if implants are right for you. Our office in Wilmington is near New Hanover Regional Medical Center on 2525 Delaney Avenue