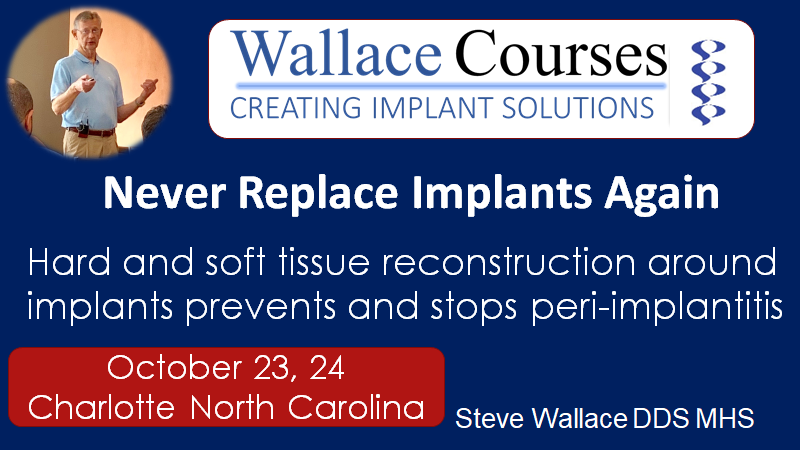 CLINICAL ADVANCES IN HARD AND SOFT TISSUE SURGERY PREVENTS AND STOPS PERI-IMPLANTITIS
Never Replace Implants Again
Hard And Soft Tissue Reconstruction Around Implants Prevents And Stops Peri-Implantitis
5 reasons to take this course:
Learn the keys to preventing peri-implantitis.
Participate in hands-on soft tissue surgery workshop.
See live videos of peri-implantitis surgery.
Understand why the Synergy of Biologics works to produce vertical bone regeneration. around implants, stopping peri-implantitis.
Understand how you can learn to Never Replace Implants AgainTM
Course Objectives:
This two-day course is for doctors who want to learn how to diagnose and treat peri-implantitis, gaining vertical bone support and preventing implant replacement.
Special emphasis is given to the demands of emergence profile reconstruction around implants placed in esthetic zones.
Provide guidelines for the specific perio-plastic soft tissue graft surgery indications of where to use what graft material and when.
Provide 7 year data from 600 peri-implantitis sites successfully treated long term.
Course Topics:
Wallace Course philosophy of simplifying soft tissue graft surgery by
"Thinking Outside the Palate"
How to routinely treat and not replace implants with over 50% bone loss.
Conditions for a rapid, non-linear progression of peri-implantitis.
Suture types and techniques to prevent flap opening complications.
Indications and surgical technique for:

acellular dermis matrix allografts
subepithelial connective tissue
tuberosity site connective tissue.

Rationale for using growth factors to create the

Synergy of Biologics

:

L-PRF
Enamel matrix derivative
rhBMP-2

Gaining predictable vertical bone regeneration in every case.
Protocols that allow for immediate implant placements without complications.
Creating desirable esthetic emergence profile results for implants placed in high smile line esthetic zones.
6 evidence-based factors that predict soft tissue grafting.
Prevent surgery complications with custom-compounded 1% metronidazole antibiotic oral gel after graft surgery.
Added Course Features:
New Graft Loc soft tissue graft suturing technique developed to overcome the technique sensitivity inherent in soft tissue grafting procedures around teeth and implants in critical esthetic-demand zones.
12 hours lecture AGD C.E. credits, 2 hours participation AGD C.E. credits
Course Schedule and Information
---
Course Location:
The Westin Charlotte
601 South College Street
Charlotte, North Carolina 28202
Course Times: 9 AM to 5 PM each day
Breakfast: 8 AM
Lunch: 12:00 Noon
Additional Information:
Hands-On Workstop (loupes and lights recommended)
| | |
| --- | --- |
| | Wallace Periodontics and Implants. Nationally Approved PACE Program Provider for FAGD/MAGD Credit. Approval does not imply acceptance by any regulatory authority or AGD endorsement. 3/1/2020 to 2/28/2022 Provider ID# 336307 |
Steve has the gift of being able to integrate science and surgical technique seamlessly in this new protocol that is shown to definitively treat and prevent peri-implantitis. This new protocol is a game- changer in the treatment of peri-implantitis!

       
As a prosthodontist, I clearly see where Dr. Wallace's restorative experience in academics and in private practice prior to his perio specialty training gives him unique understanding of the value of achieving stable implant sites, and treating rather than removing affected implants in complex restorative cases.

      
Dr. Wallace goes the extra mile in this course to pass on the knowledge and skill he has used to develop this research based one-of-a-kind teaching course. I am personally gratified to know I now have an effective protocol enabling me to treat and keep critically important implants in my referring doctor's complex cases, rather than removing and replacing them.

      
This is the most important and exciting new course I have ever seen! It clearly shows us how to successfully treat rather than having to replace implants in even the most advanced cases. If you are placing implants, this course is a must!

         
This surgical protocol for treating peri-implantitis combines the evidence-based and published techniques from multiple studies showing positive results. This produces a synergy of multiple biologic positive effects that is responsible for the superior results Dr. Wallace has achieved. His techniques and cases are meticulously documented and show the results of years of successful treatment of advanced peri-implantitis cases. This peri-implantitis treatment protocol has been adopted into the periodontics residency curriculum at the Medical University of South Carolina.

      
Steve has the restorative experience, academic knowledge and intuitive surgical problem-solving skills to create this course for the benefit of attending doctors. Complications are his special field of expertise, as he has created proprietary pharmaceuticals which target periodontal pathogens causing periimplantitis. The result is faster healing, less patient discomfort and improved case outcomes.